Fly Fishing Trips For Trout and Salmon
While rowing our fishing raft or drift boat, our Registered Maine Guides provide river knowledge and excellent boat handling to get you into the right position. This is a perfect way to gain confidence in a variety of fly fishing techniques. We offer several river options for your day of fishing. Each trip includes beverages, snacks, a hearty lunch, a Registered Maine Guide and all the equipment you need for a great day of fly fishing.
Season:
May 15 – October 31
Rates:
Smallmouth Bass Fishing
No matter your experience level, Kennebec River Angler has a guided bass fishing trip for you. These hard-fighting fish are just waiting for you to catch them. We access hard-to-reach, remote and uncrowded stretches of water using rafts, drift boats and jet-drive bass boats. Beginners and those on a tight schedule will enjoy our half-day float trips for smallmouth bass and our full-day trophy bass fishing trips will impress even the most experienced bass anglers.
Each bass trip includes a Registered Maine Fishing Guide and all the necessary equipment. Although these are designed as spin fishing trips, you can request fly fishing. We supply transportation to and from your local accommodations to the river, snacks, water and a hearty riverside lunch on full day trips. All our trips are catch and release so be sure to bring your camera! You'll also want to bring a hat, sunglasses, sunscreen and rain gear (rain jackets and pants are recommended as we fish rain or shine). While we do provide all tackle, if you prefer to use your own gear, we recommend: medium weight spinning rods and 6 – 10lb test line, 4 – 7 weight fly rods with floating, sink tip and full sinking lines.
Call us at 1-207-672-3408 to book your guided bass fishing trip.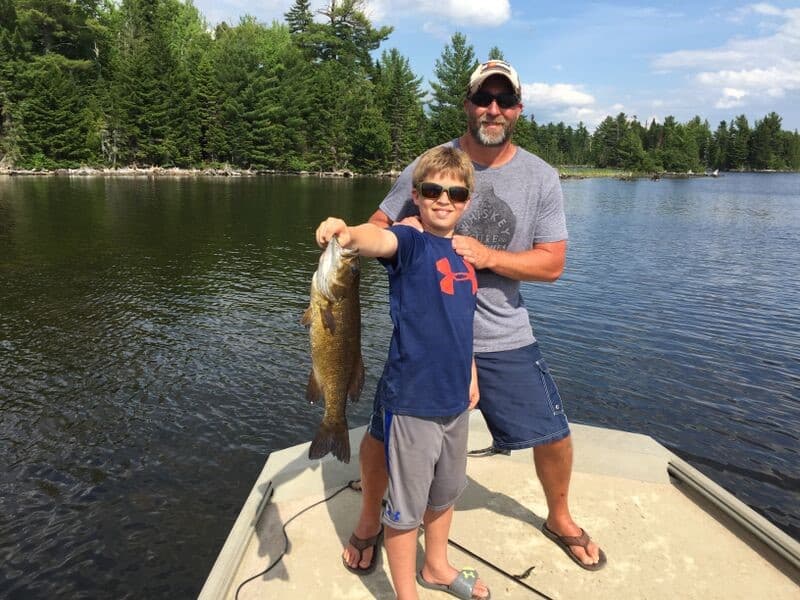 Join us for a full day of bass fishing in some of the best smallmouth fisheries Maine has to offer. Remote lakes and river systems are our specialty. Trophy-sized smallmouth up to 5 pounds and as long as 23 inches are caught each season on these waters. The best part is, these fisheries are uncrowded, remote, and just beautiful bodies of water to spend a day on. Your guides will assist in tackle selection and techniques while directing you to a variety of fish-holding locations. Rock piles, shoals, stump fields, grass flats, and current breaks all provide excellent cover and habitat for these hard-fighting bronzebacks.
Season:
May 15- September 30
Rates:
1-2 anglers……$500
3 anglers………$550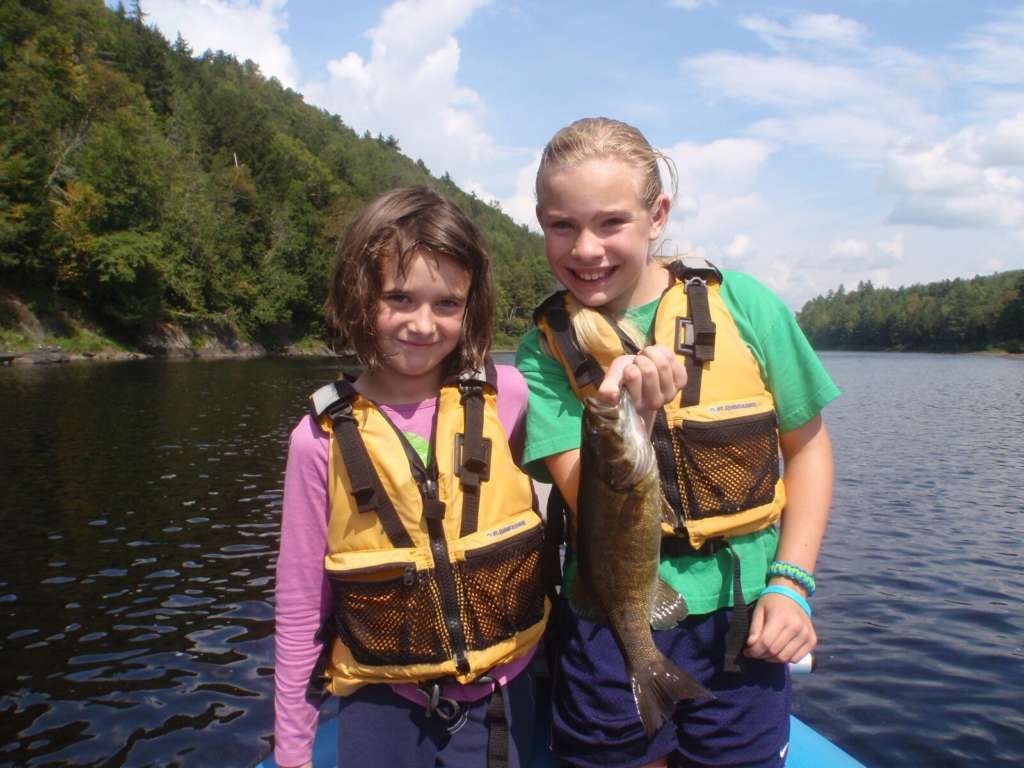 Designed for those with limited time on their hands, these trips are a great way to quickly catch some fish, enjoy a relaxing trip on a beautiful section of river in our fishing rafts or bass boats, and move on to your next adventure. We'll float the lower section of the Kennebec River gorge and cast to aggressive
smallmouth bass. These trips depart 3 times a day: 7:30 am, 12:30 pm, and 5:30 pm so you can fit one in to your busy vacation schedule.
Season:
June 20 – September 15
Rates:
1 – 2 anglers……$250
3 anglers………..$300
Customized Trips and Other Locations
If you have an idea for a unique fishing experience, give us a call and let us assist in creating a
memorable trip.
Group Trips: Give us a call and we can help design a fishing experience for your
Corporate Retreat, Bachelor Party, Family Vacation, or Group Outing.
Fly Fishing Lessons: We offer a complete, hands-on lesson package for those beginners
looking to get into the sport of fly fishing. Novice and experienced anglers can benefit
from a day with our guides assisting in perfecting specific techniques such as nymph
fishing.
Other Locations: We are familiar with many of our State's great fisheries. If you are not
going to be coming to our area, maybe we can come to yours. We offer trips in and
around the following locations.

The Penobscot River – Millinocket, Howland, Old Town, Bangor
The Kennebec River – Gardiner, Augusta, Waterville, Skowhegan, Madison
The Androscoggin River – Rumford, Dixfield, Turner, Lewiston, Auburn,
Brunswick